Google SafeSearch – Kid Protection
Nov 16th, 2009 | By
admin
| Category:
News
As a parent of a small 3 pack of kids, I am always interested in new ways to keep control of what sites my kids are viewing. Google has made this easier with Google SafeSearch with the introduction of a locking feature.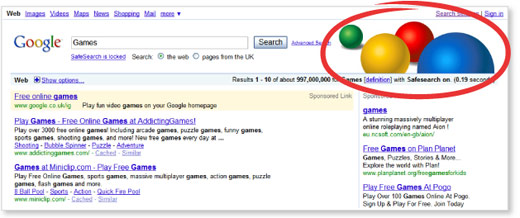 The lock feature through SafeSearch will give you the strictest level of filtering that Google can offer from the browser. To activate SafeSearch, visit the "search settings" and enter a password to turn it on.
Once activated, the SafeSearch will show up as some colored balls on the top of the page.
I hope that this will be a viable solution for locking a computers browser, so that the rugrats aren't viewing anything inappropriate. However, it looks like you would have to turn it on and off before you could let your kids surf the net. This may not be the ideal solution, but it definitely is one of the many options for parents.
Technorati Tags: SEO