Google Local Optimization
Jul 4th, 2010 | By
admin
| Category:
SEO Marketing
I am often asked the question, "What is the most important thing I can do to optimize my Google Local Business Listing?"  So I am going to include my top five (Out of 120) most important things that you NEED to do to optimize your Google Local Listing.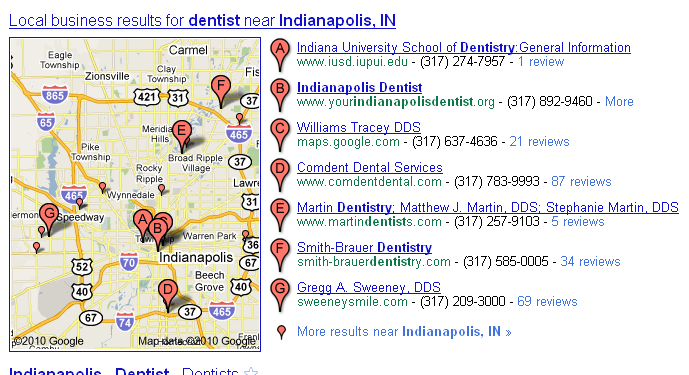 Claiming and completing your Business Listing
Proper Categories for Your Business
Include keyword in Business Title
Location of business to center of city
Keywords in business description.
Now that you know what my top 5 things are for Google local optimization, let me explain the best ways to do this.
Claiming and your local business listing
You would think that this one would automatically be completed, but there are a massive amount of businesses that have not claimed their local listing.  The biggest problem with this is for the potential competitor to claim the listing for their own.  Secondly, Google will not respect a listing as accurate if it is not claimed and your business information entered.
If you are in a competitive market, you will never see a non-claimed listing as #1 in Local Search.
Proper Categories for Your Business
Google requires that the first category of your business be one that they suggest.  So you will have to pick from their list. i.e. plumber, dentist, auto mechanic and etc.
The next four categories need to be your Geo-targeted keywords.  i.e. Greenwood Plumber, Greenwood Hair Salon and etc.  Make sure that you have 4 unique keywords that your potential clients are searching.
Include keywords in the Business Name
This one is actually "against" the Google Terms, but is still showing that it will increase rankings if you do so.  Instead of Katie's Hair Salon, it would be Katie's Hair Salon of Orlando.
Location of Business to City Center
Over the last 6-12 months we have seen a decrease of importance in this main area.  However, the less competitive the market the more important this one can be.  The closest one to the city center can usually outrank the competition if the same amount of Optimization is for each Google Local listing.
Keywords in the Business Description
When you are detailing all that your business is doing for your neighborhood, make sure that you include your town and city name that you are targeting.  This is a very quick way to optimize your listing.  Make sure that it is readable, and not keyword stuffing.  This is also a way to include more than one town for your listing.  If you service more than one town, include their names in your business description.  You will sometime be listed in more than one town because of this.
Hopefully this gives you a good foundation to build your Google Local Listing.  If you have any questions please email me at david@indianapolisseotraining.com.   We provide both Google Local Optimization services and Training for your business on how YOU can continue to optimize your Google Listing.